Fine Design Pavilion and Fine Gem Pavilion:
Prime destinations for exceptional gems and jewellery
Prepare to be dazzled by the Fine Design Pavilion (FDP) and Fine Gem Pavilion (FGP) at Jewellery & Gem ASIA Hong Kong (JGA)! Epitomising true luxury, these unique show floor attractions in Hall 3 of the HKCEC feature one-of-a-kind handcrafted jewellery and rare gemstones from some of the most renowned names in the world of high jewellery.
We are proud to showcase some of our FDP/FGP exhibitors here, and there will be more to come! Be sure to check back often for updates on new exhibitors and their stunning creations.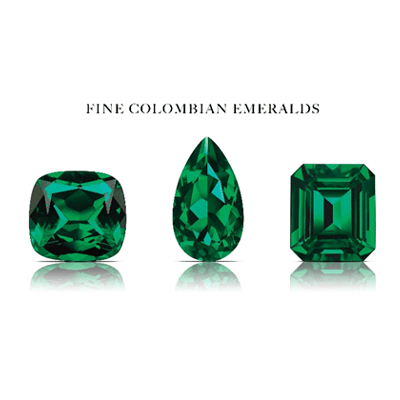 Fine Colombian emeralds from 4G's Trading Corp
Since 1988, 4G's Trading Corp remains to be one of New York's primary providers of fine-quality precious gemstones. Family-owned and operated, 4G's Trading continues to develop and expand its reputation as a leading wholesale supplier of elite Colombian emeralds.
AB Impex is a premier supplier of rare and high-quality Colombian emeralds, available in a variety of shapes and grades. With 22 years of experience, we have established ourselves as a trusted source for top brands and collectors worldwide.
A Office No. 410, 4/F – 919/1 Jewelry Trade Center (JTC), Silom Road, Bangrak, Bangkok, Thailand 10500
Showroom No. B35, B1 Floor – 919/1 Jewelry Trade Center (JTC) Silom Road, Bangrak, Bangkok, Thailand 10500
M +66 86 000 8846
T +66 2 235 0005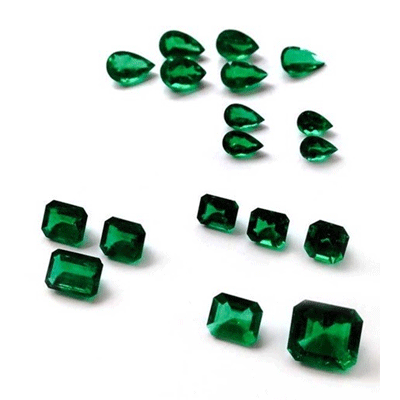 Fine Colombian emeralds from AB Impex Co Ltd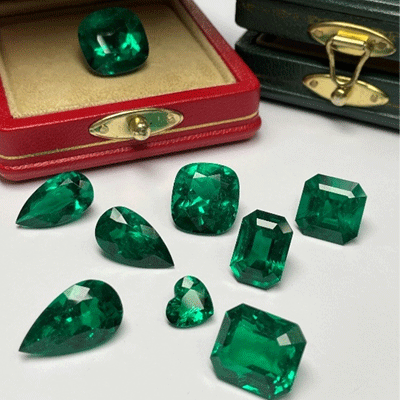 Fine Colombian emeralds from EMCO Gem Inc
EMCO Gem Inc / Diamond Distributors Inc
EMCO Gem Inc is a global company that specialises in buying, selling and cutting the finest emeralds from Colombia. Its distinguished principles cumulatively possess more than 70 years of experience in emeralds. Committed to spreading appreciation of this truly unique gemstone, EMCO Gem continues to push boundaries in every aspect of the emerald business – from how and where the emeralds are sourced all the way to the hands of the perfect client. At EMCO Gem, there is no middleman – the company buys directly from the mine, selecting the finest gemstones to sell to its esteemed global clientele. Specialising in singles, matched pairs and layout sets, EMCO Gem is a prime source for fine Colombian emeralds.
A 608 Fifth Avenue, Suite 1010
New York, NY 10020
T New York Office: +1 212 921 9188; Hong Kong Mobile: + 852 5481 9761;
Hong Kong Mobile/WhatsApp: +1 305 546 9199
WeChat ID esharabany
IG @emcogem
Gems Trading is a leading coloured gemstone, diamond and jewellery company that offers a wide range of exquisite pieces. Their collection features a variety of gemstones, including rubies, sapphires, emeralds and more, set in elegant and timeless designs. With decades of experience in the industry, Gems Trading is a trusted name in the world of jewellery, providing unparalleled beauty and luxury to their clients.
A Unit 501, 5/F, Tower 2, Harbour Centre, 8 Hok Cheung Street, Hung Hom, Kowloon, Hong Kong
T +852 2724 1273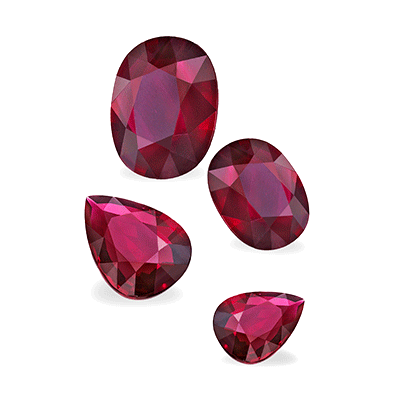 Unheated Mozambique rubies
from Gems Trading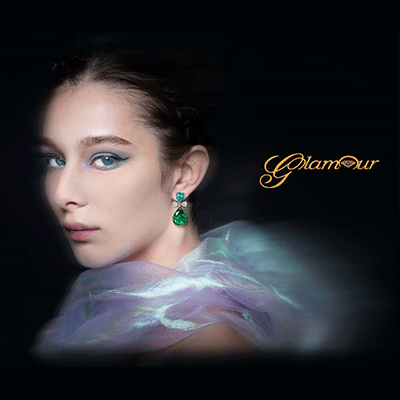 Emerald, Paraiba tourmaline and diamond earrings by Glamour Fine Jewelry
Glamour Fine Jewelry persists in its passionate ideals and commitment to supreme quality craftsmanship, crafting each exquisite masterpiece with unique aesthetics and meticulous attention to detail.
In 2023, the interstellar journey sets sail, exploring the magnificent and boundless light of the universe. Travelling through galaxies, experiencing stunning beauty and wonder, and seeking out extra-terrestrial planets, it's a dreamy and brilliant adventure.
House of Gems is a leading manufacturer recognised for providing prestigious, natural investment-grade fancy colour diamonds and coloured gemstones to brands worldwide. The company has procured and polished rare stones with GIA Monographs, Gübelin Gem Profiles and SSEF Jewel Book Awards. With six offices and two polishing factories, its global presence and integrated supply chain ensure that clients' needs are met.
A 26/F, Canton House, 54 – 56 Queen's Road Central, Central, Hong Kong
T +852 3188 3533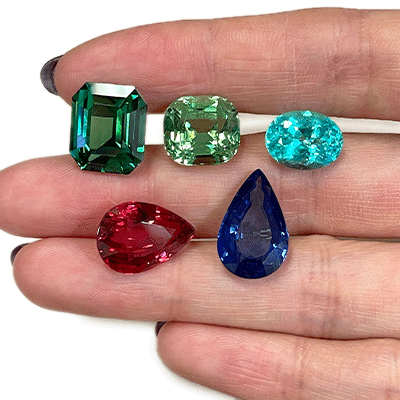 An array of exceptional coloured gemstones
from House of Gems Ltd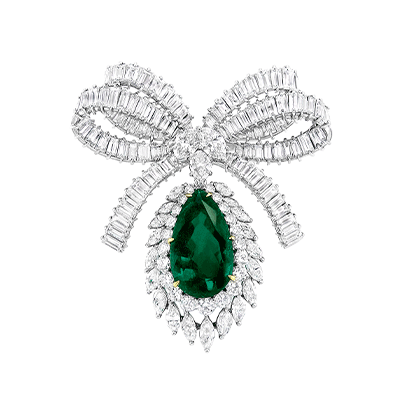 Emerald and diamond brooch/pendant
by Joseph Gad Inc
Joseph Gad Inc is a prominent name in the Colombian emerald industry, with a rich history spanning over three generations. Their legacy began with the family's patriarch, Joseph Gad, who had a deep passion for Colombian emeralds and devoted his life to perfecting his craft. Today, the company is renowned for its exceptional quality emeralds and unparalleled expertise in the field. With a focus on ethical sourcing and sustainability, Joseph Gad Inc continues to lead the way in the emerald industry, setting a high standard for others to follow.
A 589 Fifth Avenue, Suite 1007, New York, NY, 10017, USA
T +1 917 582 3377
Established in 1928, Kashikey has built strong partnerships with suppliers to create exceptional loose stones of the highest quality. At the world's largest jewellery trade show, the company has been showcasing a conch pearl booth, which attracts jewellers from around the globe. Kashikey's expertise in producing fine-quality conch pearl jewellery has earned it a well-deserved reputation as Japan's leading jeweller within this product category. This distinction has been recognised by their inclusion in "The Pink Pearl," an international publication dedicated to conch pearls.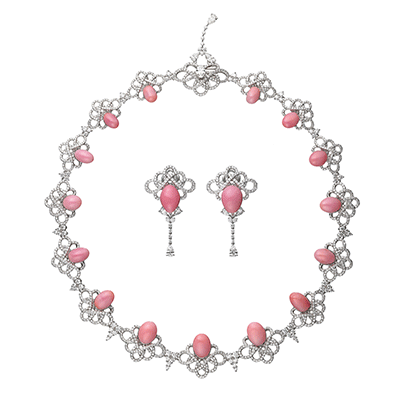 Conch and diamond pearl necklace and earrings
by Kashikey Co Ltd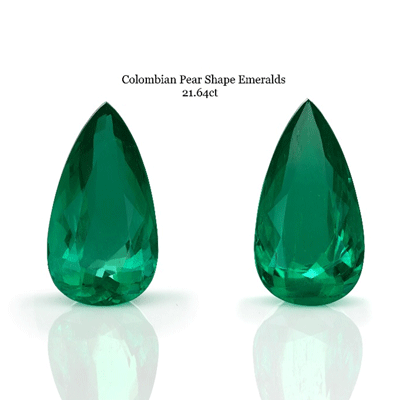 A pair of pear-shaped Colombian emeralds with
a combined weight of 21.64 carats from
Michael Gad Emerald
Michael Gad Emerald (MGE) is a preeminent global source of fine emeralds, providing an exclusive inventory of exquisite gems. The company sources the best rough from the mines and cuts and polishes the emeralds in-house with a team of experts with over a century's worth of combined experience. Additionally, MGE is committed to philanthropic efforts, investing in health, safety and education initiatives in Colombian mining areas and the world. Customers can expect to find the highest quality and value with MGE's exclusive inventory.
A 589 Fifth Avenue Suite 1208, New York, NY 10017
T 212 888 7888
F 212 888 1661
The latest collection from Michael Youssoufian Ltd has been designed for a new generation of ambitious trendsetters – those who are risk-takers in pursuit of elegance and beauty. The company has worked tirelessly to create a unique collection that caters to everyone's budget, without compromising its recognised and trusted reputation of the most eminent calibre.
A C-D 10/F, Kimley Commercial Building, 142-146 Queen's Road Central, Central, Hong Kong
T +852 2868 9093
F +852 2368 5930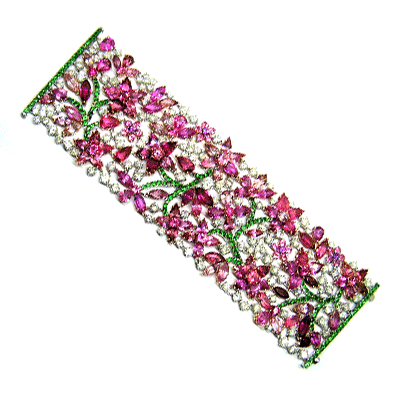 Spinel bracelet by Michael Youssoufian Ltd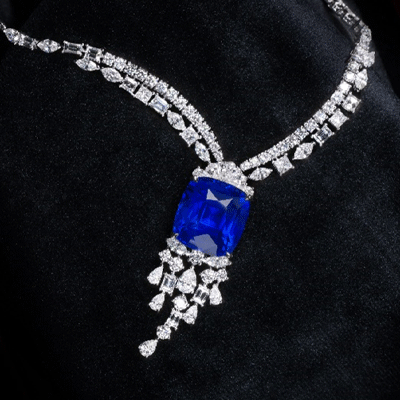 An extraordinary necklace with a diamond chain and a 30-carat+ sapphire pendant with delicate diamond drops by P.N. GEMS
Precious Natural Gemstones (P.N. GEMS) is a professional manufacturer and wholesaler of unheated rubies and sapphires, with locations in Bangkok, Thailand; Mogok, Myanmar, and Chengdu, China. The company specialises in providing high-quality rubies and sapphires from Myanmar, Mozambique, Sri Lanka, Madagascar and other gemstone sources. Its commitment to excellence has earned P.N. GEMS recognition as an expert in the field of rubies, particularly those originating from Myanmar. In fact, its 5-carat unheated Burmese ruby with Pigeon's Blood colour was awarded "The World's Most Beautiful Ruby" title by the World Ruby Forum in Bangkok in 2017.
Panim Creations (HK) Limited
Panim's exclusive collections are a reflection of its commitment to exceptional craftsmanship and design. Each piece is meticulously handcrafted with attention to detail, resulting in unique and exquisite jewellery creations that seamlessly blend classic and contemporary styles.
Contact Person: Mr. Nikunj Madhavjibhai Dholiya
A Suite 510, Winfield Commercial Building, 6-8A Prat Avenue, Tsim Sha Tsui, Kowloon, Hong Kong
T +852 2997 9646, +852 9476 7365
Pinterest Panim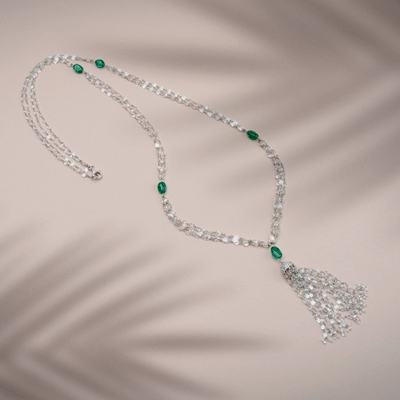 Rose-cut diamond and lush emerald tassel necklace by PANIM CREATIONS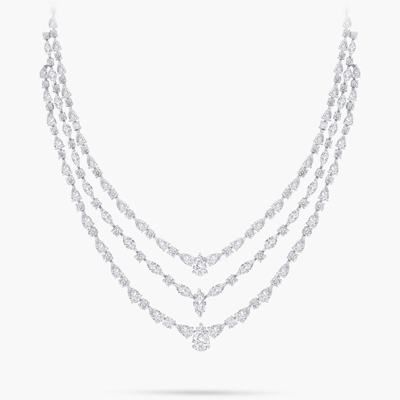 Diamond necklace by Renée Jewellers LLC
Only extraordinary diamonds, only remarkable gemstones.
Commitment to timeless elegance makes Renée an ultimate jeweller. The blending of undeniably precious diamonds and the finest gemstones creates exquisite jewellery like no other. We choose the designs that these diamonds and gemstones will adorn, and personally inspect every single piece that will carry the name "Renée" collection. We create magnificent and one-of-a-kind diamond and important gemstone jewellery. Superlative quality and master craftsmanship are the hallmarks of our collection.
A Ground Floor, Wafi Mall, Oud Metha Road, Dubai 34695, United Arab Emirates
T +971 4 324 1200
Sukhadia Stones specialises in natural unheated and heated coloured gemstones. The company's reputation is built on its selection of rubies and sapphires sourced from the world's most gem-rich locations. The company works directly with suppliers and dealers from leading jewellery markets to provide its clients with coloured gemstones in an expansive range of qualities and prices. Whether you are looking for a unique gemstone or a classic favourite, Sukhadia's team of experts is here to help you find your perfect gem.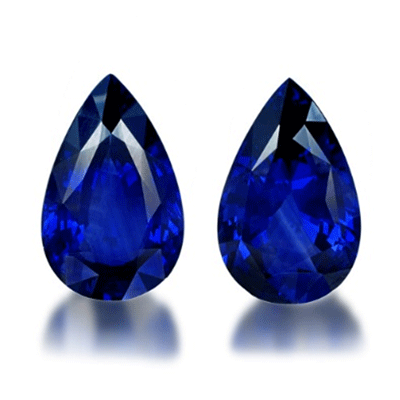 A pair of pear-shaped sapphires from Sukhadia Stones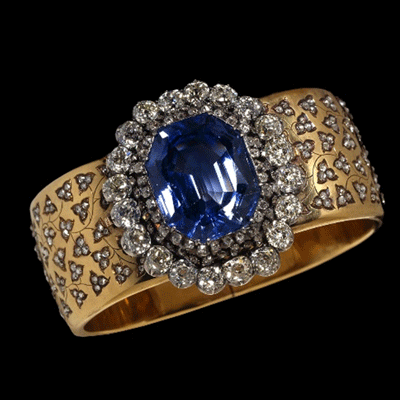 Antique sapphire and diamond bangle, mid-18th century – Ph from Thomas Faerber SA. © Katharina Faerber
Faerber-Collection, exceptional gemstones and jewellery since 1968.
Founded by Thomas Färber in 1968 in Zurich, today the Faerber Collection is world-renowned for unrivalled expertise in buying and selling rare gemstones, natural pearls and exceptional antique and historical jewellery, dating from antiquity to the present day. With offices in Geneva, New York, Paris and Hong Kong, the Faerber Team is able to conduct highly specialised and confidential transactions with dealers, private institutions and museums across the globe.
"We specialise in iconic, antique and historic jewels, which, if they could speak, would have a thousand stories to tell." – Thomas Färber
Unique Brilliant specialises in rare and unique jewellery pieces, featuring collections of diamonds and coloured gemstones that reflect the company's name. Each piece is carefully selected for its exceptionality and quality. With over 40 years of experience, Unique Brilliant is committed to providing the best possible service to its loyal clients worldwide. The company's values of trust, integrity and respect guide its approach to every interaction. Its dedication to ensuring a memorable experience extends from the selection of the perfect piece of jewellery to providing outstanding after-sales service.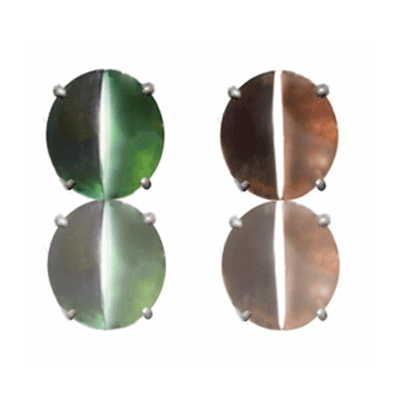 An exceptionally rare 'Cat's eye alexandrite,' which originated from Ceylon (Sri Lanka) and weighs 100.07 carats, from Unique Brilliant Limited. A gem that every connoisseur would love to own, the stone displays a very sharp and straight cat's eye effect with excellent colour change, making it a one-of-a-kind piece. The alexandrite is certified by three international gemmological laboratories.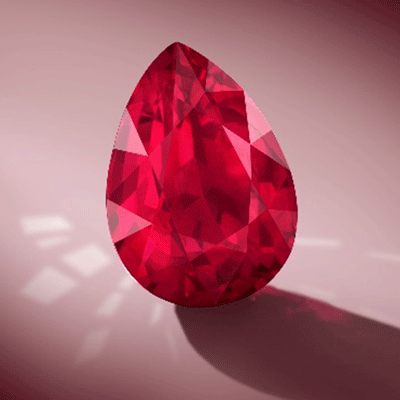 Fine ruby from Veerasak Gems Co Ltd
Veerasak Gems is a coloured gemstone house with over 40 years of expertise. We specialise in rubies, sourcing directly from the mines of Mozambique and Myanmar (conflict-free). Additionally, we also offer exquisite sapphires, spinels and peridots.
A 43 Silom Soi 19, Bangrak, Bangkok, Thailand 10500
T +66 2 236 4416
With over 40 years of experience and trust, Zals Limited and Noor Gems Japan Ltd are leading brands in the international gemstone industry. They showcase rare and high-quality gemstones such as Paraibas, Kashmir sapphires, alexandrites, demantoids and spinels. Company founder and director Zaheer Ansari has a reputation for finding and examining the finest gems. The company is an active member of the International Colored Gemstone Association and the Japan Jewellery Association, and has offices in Japan, Hong Kong, Dubai and Jaipur.
A Flat B5, Block B, 14/F, Hankow Centre, 4-A Ashley Road, Tsim Sha Tsui, Kowloon, Hong Kong
T +852 2555 8688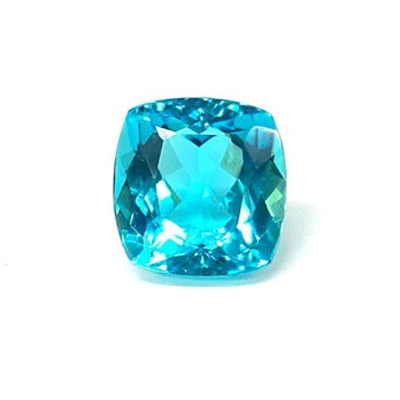 A 3.03-carat Paraiba tourmaline from Zals Limited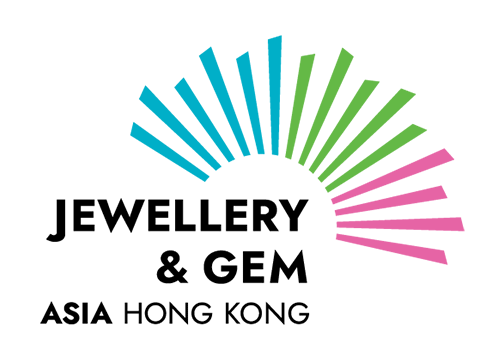 Alexander Laut Co Limited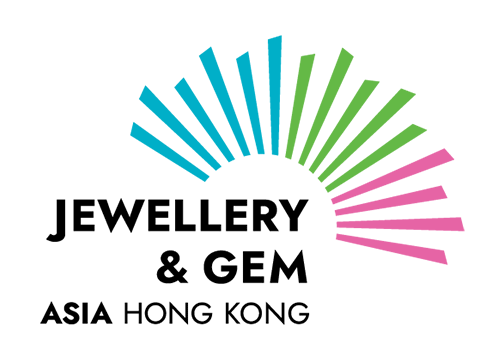 Eshed Diam (H.K.) Limited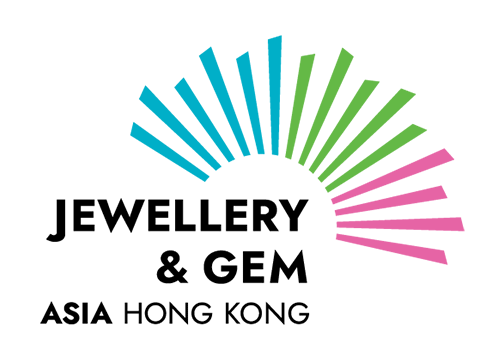 Eternal Charm Jewellery Design Limited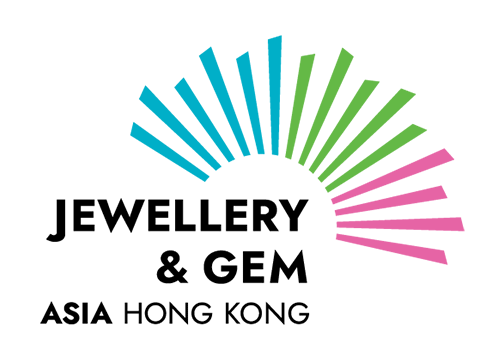 Jewellery Planning Co Ltd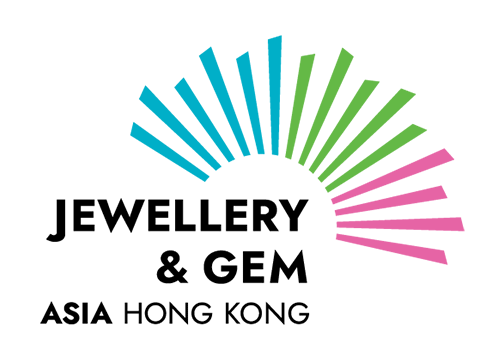 Karen Suen Fine Jewellery Limited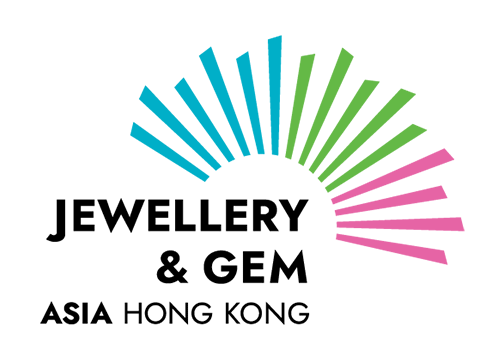 Panjshir Gems General Trading LLC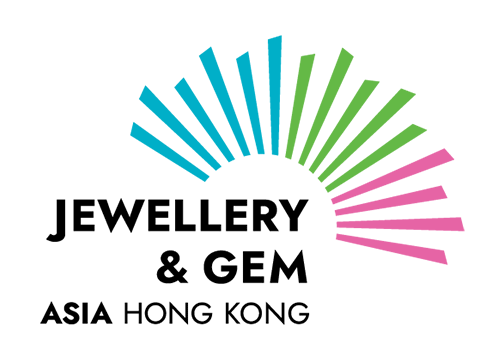 Shenzhen Yuehe Jewelry Culture Ltd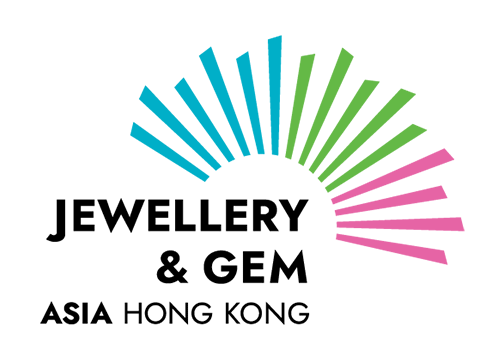 Sparkles and Colors USA Inc/ Lakhi Gems Group