COVID-19 Test Negative Result / Vaccination Record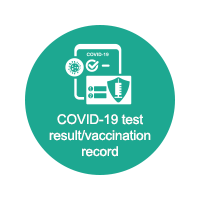 COVID-19 Test Negative Result Or Vaccination Record
In accordance with the latest requirements and guidelines of the HK Government and the HKCEC, exhibitors are required to take the following measures in the prevention of COVID-19:
All exhibitor staff and representatives who will be present on the show days (June 24-27, 2021) must take a polymerase chain reaction-based nucleic acid test for COVID-19 on or after June 14, 2021 (14 days before the last show day) and obtain a SMS notification containing a negative test result. As an alternative, a proof of a vaccination course completed before or on June 9  (14 days before the first show day). On exhibitor move-in day, exhibitor staff must present a negative test result or a vaccination record to the Organisers prior to collection of exhibitor badge and admission to the exhibition hall.     
 
The Organiser will keep all SMS notifications containing negative test result / vaccination records for 31 days and may share such data (including any additional identity verification data) as required by law or any lawful request of authorities for the purposes of Covid-19 contact tracing and prevention of crime. Exhibitors are also required to retain their own SMS notification containing a negative test result / vaccination records for 31 days. 
 
In addition, law enforcement officers may visit the Exhibition at any time to carry out spot checks. Any exhibitor staff who fail to comply with compulsory testing notices are committing an offence, which is subject to prosecution. 
COVID-19 Test negative result
The test must be conducted through one of the followings:

A. To obtain a deep throat saliva specimen collection pack from any of the designated post offices, vending machines set up at MTR stations or 47 designated general outpatient clinics (GOPCs) of the Hospital Authority (https://www.coronavirus.gov.hk/eng/early-testing.html);
B. To self-arrange testing provided by private laboratories which are recognised by the Department of Health and can issue SMS notifications in respect of test results  (https://www.coronavirus.gov.hk/pdf/List_of_recognised_laboratories_RTPCR.pdf);
C. To attend any Community Testing Centres* (https://www.communitytest.gov.hk/en/);
D. To visit any mobile specimen collection stations (https://www.communitytest.gov.hk/en/station/)
*This fair has applied for Temporary Places of Public Entertainment License, exhibitors are eligible to free testing services provided at Community Testing Centres through "Community Testing Centre – Booking System". Exhibitors shall indicate that they are under the category of "Scheduled Premises – Places of Public Entertainment" in order to receive free testing service.
Vaccination Record
The information in this document is subject to change to cope with the latest government guidelines.
Last updated: May 20, 2021