Revolutionising the Jewellery Industry through
New Innovative Tools and Technology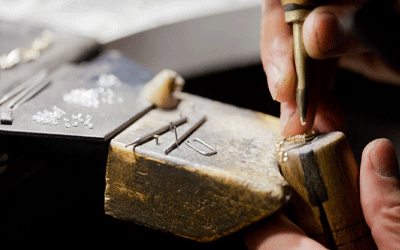 The jewellery industry is undergoing a significant transformation as cutting-edge technologies reshape traditional methods and open new possibilities for design, authentication, and traceability. From the emergence of 3D printing to systems that enhance diamond authentication, these advancements are revolutionising the way jewellers work.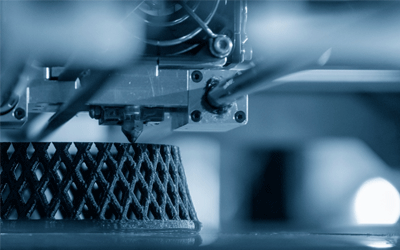 3D printing is poised to revolutionise jewellery manufacturing in precious metals. While still costly, as economies of scale make prices for powder more competitive, jewellers will be able to bypass common manufacturing challenges to produce innovative pieces.
Austrian brand Boghossian describes itself as the world's first to create unique fine jewellery that is coded by hand and crafted by technology. It specialises in 3D printing jewellery in recycled gold, relying on proprietary mathematical algorithms and 3D printing processes to create its light, fine and wearable pieces. Boghossian's Diaphane Mesh collection, meanwhile, features fluid, fabric-like nets of diamonds and precious gemstones achieved partly through 3D-printed elements.
Laser sintering is also making waves in jewellery manufacturing. It involves using laser to melt powdered metal such as gold, platinum or silver, layer by layer into the shape of a piece. This allows jewellers to create intricate and complex designs with unparalleled precision and accuracy.
According to the Gemmological Institute of America, this technology – while promising – is quite expensive and still very new. It could however eliminate the need to create a wax or plastic model for casting.
Innovative Rough Diamond Evaluation Service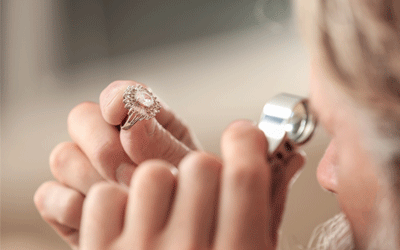 Sarine Technologies Ltd and Delgatto Diamond Finance Fund (DDFF) recently unveiled a way to evaluate rough diamonds using a mapping technology so they can be used as collateral. A milestone in rough diamond trading, the new Del Gatto 360 – Powered by Sarine service will employ Sarine's technological solutions to map, identify and evaluate rough diamonds so Delgatto – a non-bank diamond financing entity that offers flexible, collateral-based structures to the global diamond value chain – can assess if the rough diamond is eligible for financing and can be used as collateral.
The collaboration allows Delgatto to significantly raise the amount of capital it provides to the rough diamond sector as well as expand the types of structures it offers.

According to Sarine, this is the first complete solution for industry players to easily access financing for rough diamond sourcing.
Innovative Surface ID System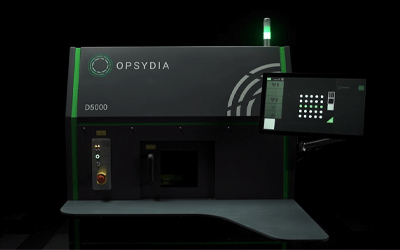 Last year, UK-based laser technology expert Opsydia introduced an innovative Surface ID System to complement its existing sub-surface technology.
The Surface ID System (D4000) creates shallow, transparent and loupe-visible features on the surface of gemstones, using a laser process that can create these ID features through clean ablation at very shallow depths of <50 nanometer at faster rates than existing technologies currently available on the market.
Opsydia CEO Andrew Rimmer commented, "Fraudulent girdle inscriptions continue to be a concern in the trade so as we branch into surface-led systems, we are also researching and developing innovative ways to add extra layers of security to these features. We will share our results in due course."
Also available from Opsydia is D6000, which incorporates surface and sub-surface capabilities into a single system. Both the D5000 and D6000 can place permanent loupe ID and nano ID features beneath the surface of diamonds. It now offers its clients a trio of systems – the D4000, D5000 and D6000 – to suit a range of diamond industry businesses and boost best practices.
Blockchain for provenance
A transparent supply chain is crucial for sustainability in the coloured gemstone industry. This involves being able to track gemstones from their source to the final consumer, ensuring that ethical and sustainable practices are followed throughout the process.
Blockchains offer a secure solution for recording and verifying each step of the gemstone's journey, providing an immutable and tamper-proof record of its provenance.
Singapore jeweller Gems Origin, in partnership with Accredify, a major verification solutions provider, is also adopting blockchain technology to authenticate fine jewellery pieces.
This development serves as an industry benchmark that signals the continued modernisation of the jewellery trade using advanced technology.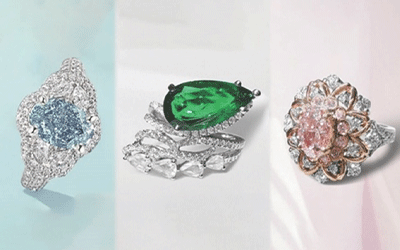 The partnership stipulates that each gem sold and crafted into a piece of fine jewellery by Gems Origin will come with a certificate of authenticity to be placed on the blockchain to ensure integrity and security. This immutable ledger will guarantee that data is unchanged, helping customers preserve and trace the value of their jewellery as it is passed on to future generations.
Quah Zheng Wei, CEO and co-founder of Asia-Pacific-based Accredify, commented, "The application of verification technology to luxury goods serves as a new way for brands to assure consumers of their high-value asset's authenticity."
To make traceable gems more accessible, sustainability start-ups Provenance Proof, an initiative by the Gübelin Gem Lab, and Everledger introduced the first blockchain-supported online marketplace, providing a digital, decentralised ledger that traces gemstones from mine to end-consumer. To date, around four million gem and jewellery items have been uploaded to the blockchain and over 500 professional users have joined, including more than 120 jewellers and manufacturers.
Artificial Intelligence (AI)
AI and machine learning are rapidly changing the jewellery industry. Not only is AI being used in design and manufacturing processes, the technology is also used to identify and grade gemstones.
Yet another initiative by the Gübelin Gem Lab, Gemtelligence ensures consistency in the analysis of coloured gemstones and, for the first time, determines the origin of emeralds, rubies and sapphires using artificial intelligence and deep learning.
Developed in cooperation with the Swiss technology innovation centre CSEM, the platform revolutionises the way that gemmology interprets data by employing artificial intelligence. This leads to greater analytical consistency and precision, thereby enhancing security and trust, according to Gübelin Gem Lab.
Discover the cutting-edge world of advanced tools and technology at Jewellery & Gem ASIA Hong Kong's tools & equipment pavilion. On top of that, JGA offers unparalleled opportunities to explore the latest trends and innovations across the entire jewellery supply chain. With more than 1,600 exhibitors from 30+ countries and regions, the fair gives you access to major suppliers of diamonds, coloured gemstones, pearls, finished jewellery, industry-related technologies and more! Register Now!