Exhibitor E-News - May 26, 2021 (Raw Space Exhibitors)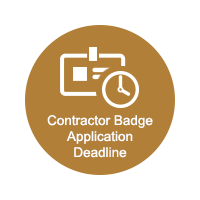 Please fill in Form 1b online before May 28, 2021 for making the Non-official Contractor/ Non-Official Stand Builder badges.
For security reasons, all workers who need to enter into halls during fair days (June 24 – 27) must apply for a temporary badge (HKD 100 deposit each) at the Badge Office. Please bring along with the contractor / stand builder badge and HKID for application on exhibitor move-in day after 4pm. All workers who present on the fair days (June 24 – 27) are required to provide the COVID-19 test negative result (test date should be on or after June 14) or vaccination record (completed two doses on or before June 9) when applying the temporary badges.
– Late submission after May 28 will be subjected to a administrative fee of HKD 100 per badge.
– No application will be accepted after June 4 and no onsite application will be entertained.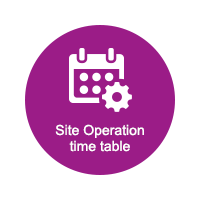 RAW SPACE Contractors  :
Description
Date and Time

Unload OR transport booth construction materials OR booth construction #

Booth interior works only #

June 22, 2021 — 10:00 – 23:00

June 23, 2021 — 08:30 – 23:00

Dismantling of all booths

Removal of all construction materials/

showcases/ waste*

June 27, 2021 — 19:00 – 24:00

June 27, 2021 — 19:00 – June 28, 2021– 03:00
For ALL SHELL SCHEME Contractors:
| | |
| --- | --- |
| Description | Date and Time |
| Set up | June 23, 2021 — 08:30 – 23:00 |
| Removal of furniture | June 27, 2021 — 19:00 – 24:00 |
Non-official contractors should strictly follow the above schedule.


No early set up and overtime work will be allowed. All construction materials, equipment and waste must be moved-in/removed within the above schedule. All site work deposit will be deducted if the non-official contractors fail to comply with the schedule.
# For safety reasons, it is strictly prohibited to unload booth construction materials, use the ladder in the aisle and build the booth exterior on the exhibitor's move-in day.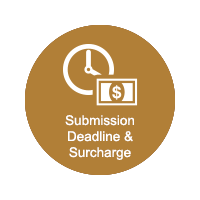 Items
Submission Deadline
a. Non-Official Contractor Information
(Form 1a)
May 28
b. Booth plans with full dimensions, construction materials, technical plan, electricity and lighting distribution plan
May 28
c. Site-Work Deposit
(Only bank drafts accepted or direct deposit into official contractor's bank account)
May 28

d. Non-Official Stand Builder / Non-Official Contractor Badges (Form 1b)
(Each late submitted badge will be charged HKD 100)

May 28
e. Copy of Insurance Policy
May 28

f. Method Statement / Risk Assessment (Compulsory for Raw Space) (Form 1c)

May 28
g. Undertaking of Move-in / out Work Safety Form


May 28

It takes 20 working days for commenting on the booth plans. Please submit all the above items to the related Official Contractor (except item d) before the deadline.
Any late submission of each of the above items will be subject to a surcharge of HKD3,000. 
Submission of the booth plan will NOT be accepted after May 28, 2021.
Application of badges (item d) will NOT be accepted after May 28, 2021.
The booth plan will not be commented on if any of the above items has not been submitted.
Contractors will not be admitted into halls if either one of the above items has not been submitted or if the plans for such work have not been received and commented on.
---