Trade Promotion Competition Licence No.: 55713
A 1.03-carat fancy yellow cushion cut diamond with GIA report
Date

Time

Prizes

Sponsor

Note

18K rose gold red agate and diamond necklace

Lucky draw coupon
collection ends 15 minutes
before each draw

18K yellow and white gold blossom diamond (0.21 carat) necklace

18K white gold solitaire diamond (0.49 carat) earrings

14K white gold natural sapphire and diamond earrings

18K rose and white gold butterfly diamond (0.35 carat) necklace

A 7.43-carat cushion cut tanzanite with Hong Kong Gems Laboratory report

18K rose gold red agate and diamond necklace

18K white gold diamond (0.94 carat) pendant

A 7.42-carat trillion cut tanzanite with Hong Kong Gems Laboratory report

18K yellow and white gold blossom diamond (0.24 carat) earrings

18K white gold diamond (0.10 carat) bracelet

GRAND PRIZE
A 1.03-carat fancy yellow cushion cut diamond with GIA report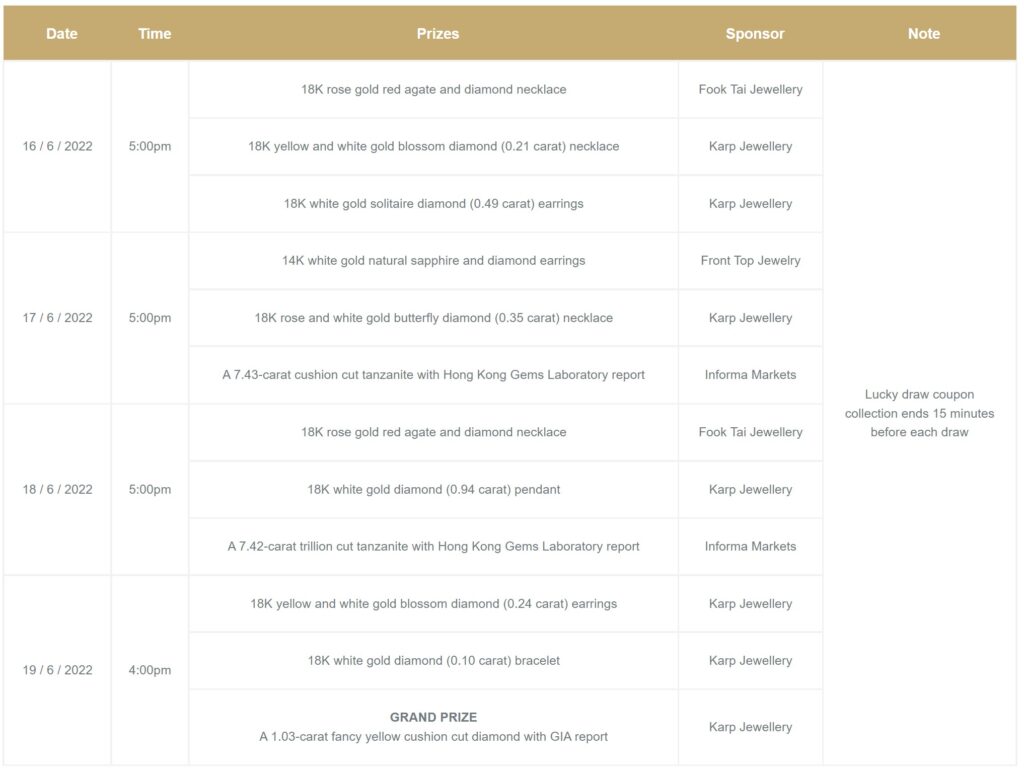 Coupon Redemption

Visitors will receive a lucky draw coupon upon a single purchase of HK$2,000

Visitors need to present the official receipt(s) issued by Jewellery & Gem ASIA Hong Kong (JGA) exhibitors during the fair period at the redemption counter located in Hall 1 of HKCEC

Visitors may redeem a lucky draw coupon upon a single purchase of HK$2,000 made during the fair period

Only one receipt may be used each time and a maximum of five coupons may be redeemed for each receipt

Number of coupons buyers can get per receipt:

• HK$2000 - HK$3,999 = One coupon
• HK$4,000 - HK$5,999 = Two coupons
• HK$6,000 - HK$7,999 = Three coupons
• HK$8,000 - HK$9,999 = Four coupons
• HK$10,000 and above = Five coupons (max.)

Visitors need to provide contact number on the lucky draw ticket(s) before dropping it to lucky draw box
Terms and Conditions

• The Lucky Draw programme is held during the show period of Jewellery & Gem ASIA Hong Kong (JGA) on 16 to 19 June 2022.
• All employees of the Organiser, Informa Markets Asia Limited, and JGA exhibitors are not eligible to participate in this programme.
• All participants must present the official receipt(s) issued by JGA exhibitors during the show period to redeem Lucky Draw coupons.
• Upon a single purchase of HK$2,000, visitors may redeem a lucky draw coupon. Only one receipt may be used each time and a maximum of five coupons may be redeemed for each receipt
• Participants should drop half of each coupon into the Lucky Draw box and keep the other half, which is required when collecting prizes. All winners must present the original copy of the corresponding coupon for prize redemption.
• All non-winning coupons will be included in the final Grand Prize draw on 19 June.
• Lucky Draw time and coupon collection cut-off time
| | Lucky Draw time | Coupon collection cut-off time |
| --- | --- | --- |
| | | |
| | | |
• Lucky Draw venue: Hall 1 of HKCEC
• On 16 – 18 June, if the winner(s) is/are unavailable during the Lucky Draw, the Organizer will keep the respective prize(s) till noon the following day (the deadline). The winner(s) must contact the Organiser before the deadline and receive the prize(s) during the Lucky Draw that day. No objection raised after the deadline is valid.
• On 19 June, winners must collect their prizes immediately during the Lucky Draw. Otherwise, a redraw will be conducted.
• All winners must accept the prizes on an "as is" basis. All redeemed prizes are non-exchangeable and not redeemable for cash.
• All winners must give the Organiser the right to use photographs taken during the Lucky Draw for promotion purposes, and release the Organiser from any claims and demands arising from the use of the photographs. This release also covers legal representatives and any licenses of these photographs.
• The Lucky Draw result will be published in The Standard and Sing Tao Daily on 28 June 2022.
• The Organiser reserves the right to make the final judgment in case of disputes.